Old and new from Swedish melodic rockers...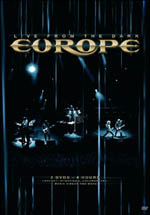 This 2 disc DVD was recorded live at London's Hammersmith Apollo last year. The gig itself is exactly as it was on the night and the camera work and sound make it as good as it was on the night.
Unlike other successful rock bands that have recently reformed Europe were touring to support a newly released CD, and were not afraid to play no less than 6 tracks from this album. New tracks such as 'Got to have Faith' and 'Start from the Dark' fit in very well with a selection of older hits.
Outstanding tracks here are 'Ready or Not' (played with more energy than most younger bands of today can manage!!!), 'Seven Doors Hotel', 'Wings of Tomorrow', 'Yesterdays News' and the classic anthem 'The Final Countdown'.
The second disc is packed with extras including a tour documentary, on stage and in car interviews with the band and the promo videos for recent singles 'Got to have Faith' and 'Hero'.
*****
Review by Nikk Gunns