Excellent introduction to hard-rocking Dokken...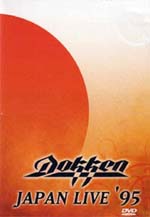 I have to be honest and say that before I watched this DVD I did not know a lot about Dokken. Saying that, this gig (filmed at Tokyo's Kosei Nenkin Hall in 1995), was a great introduction to the band.
A simple but effective stage set and light show coupled with the magnificent guitars of George Lynch throughout make this an enjoyable trip through Dokken's back catalogue (going as far back as the early 80's).
Opening number "Tooth and Nail" sets the pace for the first few numbers, the best of which is the hard rocking "Into the Fire", and in fact right up until about midway through the gig. It is at this point that the band play a stripped down, almost acoustic, couple of numbers which includes the brilliant piano-based ballad "Alone Again".
Then it is firmly back into full on rock mode for the track "Mr Scary" which is followed by the best track of the gig "It's Not Love". Best guitar solo of the gig though has to go to "Paris is Burning", with "In My Dreams" closing the show. Having watched this gig, I have to say that I would like to see the band again.
The extras on the DVD include an acoustic rendition of the hit single "Dream Warriors", a live performance of "Paris is Burning" from 1999 and a trailer for other Dokken live DVD "Live From the Sun". Well worth watching and, unlike many of the other music DVDs that are available at the moment, it is definitely value for money.
****
Review by Nikk Gunns