Just witnessed your best live gig?..send us a review!
DAVID GILMOUR
Manchester Bridgewater Hall, 26 May 2006
The omens were good when arriving at The Bridgewater Hall - a quite magnificent multi-tiered venue - 'This evening's performance will include strobes, smoke and lasers'. And it was scheduled to last a mouth watering 2 hours and 40 minutes.
In the smoke filled auditorium the anticipation was almost palpable and as the lights dimmed a heartbeat began pulsing across the PA. Without announcement it was straight into Breathe and Time from Dark Side Of The Moon. Gilmour's guitar soared and the lights seared. What a way to open a show.
The rest of the first half of the performance was given over to a complete rendition of On An Island. Castellorisation opened with an intensity not apparent on the album, the stage bathed in red, orange and purple lights, Gilmour himself hunched over his guitar in a pure white spotlight.
Guests David Crosby and 'local boy' Graham Nash joined the set for On An Island and The Blue - Nash looking tanned, fit and trendy, Crosby looking almost dishevelled and uninterested. It was a nice touch.
The set was full of trademark Gilmour guitar playing. There was some magnificent sax from Dick Parry and a barnstorming version of Division Bell's Take It Back with pulsing fiery red, blue, white and orange strobes that were violent in their intensity.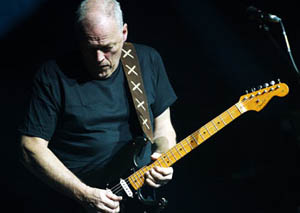 Smile was lovely and Pocket Full Of Stars graceful with some exquisite guitar work. And on the whole, the material seemed to have more 'bite' than on the album. Gilmour himself was on inspired form.
The second half kicked off with Welcome To The Machine and Shine On You Crazy Diamond from Wish You Were Here with some of the best guitar work this side of the apocalypse. Dick Perry wielded two saxes like a man possessed.
It was like a Floyd jukebox - Wearing the Inside Out from Division Bell, a wonderfully rocky Arnold Layne, an acoustic Sing To Me, and some stunning Spanish and lap steel guitar work on Division Bell's Coming Back To Life.
And when you thought it couldn't get any better there was a gargantuan rendition of Echoes that stunned the senses with a visual and aural feast. Wish You Were Here and Comfortably Numb brought the house down. It was like the mothership had arrived. Absolutely magnificent.
Review by Pete Whalley
Related>> Album review