CLUTCH 'Robot Hive/Exodus' Metal Blade(2005)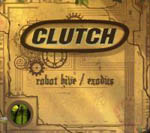 Clutch is one of those bands that you know are 'cult', even if you have never listened to any of their music. You know – that '70s lettering on rather oddly coloured t-shirts you see the occasional bloke wearing. Anyway, this pre-conception was my starting point, when I was introduced to their new release 'Robot Hive/Exodus', and I dare say I will be following the band's progress in the future.
The reason for this sudden enthusiasm, for all those who are not familiar with this groove-mobile's back-catalogue, is the fact that you are treated to a combination of Stoner/ Funk and 70s sounds, all wrapped up in guitarist and vocalist Neil Fallon's Zappa-style sense of humour. The most amazing thing about this band is the fact that they are relative newcomers to the music scene (having emerged during the past decade), while sounding as if they have been around since the 70s.
With that in mind, I urge you to listen to the excellently catchy introductory tracks on the album, starting with the 'Incomparable Mr. Flannery' and 'Burning Beard'. The hilarious 'Pulasky Skyway' (please pay attention to the lyrics!!!) sets another scene, which is followed on by the bizarre '10001110101', a convenient way for computer techs to memorize binary code. In-between these two tracks is wedged a very groovy, Hammond-infused 'Never Be Moved', which I guarantee you will be humming along to days after you first heard it. Two covers - "Gravel Road" and "Who's Been Talking", which comfortably fit into the whole package, top of this journey into Blues-rock and Stoner riff heaven.
The only criticism I have of this album is that it is actually a bit difficult to maintain the high and good humour throughout all 14 tracks, as it begins to become slightly repetitive towards the end, with the result that I kept skipping back to the beginning in order to listen to the catchier first half.
I have read descriptions of 'Robot Hive/Exodus' being Clutch's best offering to date and, although, I don't really have an opinion in this respect, I can definitely say it is worth squeezing into section 'C' in your music catalogue, even if it does mean re-arranging all your CDs….
****
Review by Emily Dgebuadze