CANDYHEADS 'Go Forth And Multiply' Track Records T2001 (2003)

Formed by ex-Public Image Limited member Ted Chau on vocals/guitars, along with Sergio Busato (drums), Mic Stoner (bass/vocals) and Hannah Faultley (guitar). They have played extensively in the UK, including supporting Sign of 4 (the Phil Mogg fronted band) last year.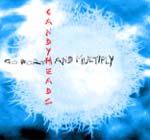 'Higher Ground' sounds like classic Kingdom Come on the chorus - must be my ears! Ted Chau has a very melodic vocal style, amply illustrated on 'Just Sleeping'. Very up-tempo backing and catchy too boot. 'Open' takes the Pixies route of slow verses before exploding into a furious chorus. Slower tunes work as well, 'Small Town Dreams' builds nicely to a melodic chorus. Another slowie 'Dog Dayz' takes a more acoustic path but neatly tucked in is a cool guitar solo. 'With Me' rounds it all off in style with lush backing and another track with 'radio' written all over it - if only radio would play some decent music like this.
Very accomplished debut album, containing plenty of radio friendly tunes. Live they come across even heavier and a bright future beckons for this band if there is any justice.
Related>> Rising Stars Interview
Falling Down
© 2003 Candyheads/Track Records. All rights reserved.
****
Review by Jason Ritchie