CALIFORNIA GUITAR TRIO 'The First Decade' (Inside Out 08565802) (2003)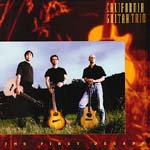 Amazing to think that this trio of talented guitarists have been together for ten years and have so far released five albums. The musicianship on here is simply stunning and it makes a great album to unwind to. 'Yamanashi Blues' features very nimble acoustic picking, with the 'Train To Lamy' series of instrumentals another highlight. The latter takes in many styles from a fuzzed intro to a laid back Mexican acoustic workout ' a sheer delight on your headphones. 'Melrose Avenue' rattles along at fair pace and is up with John Williams for guitar technique.
A fine introduction to the work of this fine trio of musicians and their Christmas album is another 'must have' for any collection.
Yamanashi Blues
© 2003 California Guitar Trio/Inside Out All rights reserved.
Related >> CG3+2
Related >>A Christmas Album

****
Review by Jason Ritchie


£12.99
***** Out of this world | **** Pretty damn fine |
*** OK, approach with caution unless you are a fan |
** Instant bargain bin fodder | * Ugly. Just ugly