BUNGALOW ZENN 'Misty California '
(Holier Than Thou, promo 2003)

Well if The Darkness have revived some good old seventies rock 'n roll and posturing, there must be hope for Bungalow Zenn. This four piece band have bags of attitude and make a glorious noise on this demo single, a very American sound and truly Aerosmith in spirit with a dash of Whitesnake and Zep thrown in for good measure. Within seconds you'll get hooked into the marvellous, retro, and insidious riff. We want more!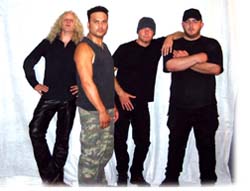 Label Website
Band Website
****
Review by David Randall
Misty California (full length audio)
© 2003 Bungalow Zenn/Holier Than Thou Records. All rights reserved.