BUDDAHEAD 'Crossing The Invisible Line'
Sanctuary 06076-84673-2 (2004)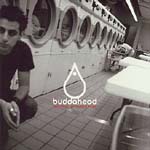 There are many places to listen to music these days: on the move, on the computer, on the home stereo. The acid test for me, in terms of album impact and, moreover, durability, is the car test. Would you want the CD on rotation in your six-disc changer for any prolonged length of time?
As far as Buddahead's debut is concerned, the answer is decidely, yes YES! This could well be the much-needed soundtrack to the summer of 2004. If you appreciate the finer points of classic melodic rock: superb hooks, jangling guitars AND class orchestration with a REAL orchestra look no further than this. The brilliant David Campbell who has previously worked with Kiss (featured on their DVD 'Symphony') was responsible for the string arrangements. Check out 'Disappear' for starters.
Buddahead is essentially singer-songwriter Raman Kia whose influences go back at least to the late sixties and those harmony-led guitar bands such as Buffalo Springfield and The Byrds. Fast forward several decades and 'Crossing The Invisible Line' also holds a candle to post-Nirvana guitar-based rock. It should come as no surprise that the faery-dust on this album is sprinkled by producer Don Gilmore of Good Charlotte and Linkin Park fame and mixer Andy Wallace who worked with Cobain, Jeff Buckley and Sheryl Crow.
It is Kia's songs, though, that win you over. There's some superb stuff here, the track 'Broken' in particular is truly magnificent and I suggest you digest this as soon as possible before lapping up some of the other treasures on offer. This is one of those rare pieces that will make hairs on neck stand to attention. 'When I Fall' (pulled as an early single) 'Holding Me Back' and 'How Does It Feel?' will have you tapping your dashboard and air punching with a vengeance in spite of petrol prices whilst the slow-burn, big-chorus 'Chains', 'Strong' and 'Take It All Away' impress with their craftsmanship.
At once, combining the plaintive longing of the classic singer-songwriter muse, with the urgency and grit that prevents track skip and with deft production values. There are not many CDs you would have on permanent rotation in your CD-changer. This just might be one of them.
*****
Review by David Randall

10 Questions
Artist website
Broken
© 2004 Sanctuary Records Group. All rights reserved.