BROKEN HOME 'Life' Angel Air SJPCD169 (2004)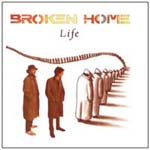 Dicken (aka Jeffrey Pain) is one of those true professionals, a great guitar player and songwriter, and two of his archive pieces have been thankfully resurrected by Angel Air.
In truth, Dicken's fifteen minutes of fame came in 1977 when - with pop-rockers Mr Big - he hit paydirt with the radio-friendly hit 'Romeo'. From then on, subject to label indifference when the follow-up hits failed to arrive, his band imploded. A third album 'Seppuku' (subsequently reissued by Angel Air), was shelved and together with writing partner and Mr Big bassist Pete Crowther he formed 'Broken Home'.
Broken Home were on the rockier edge of the Mr Big spectrum, and their debut album (Angel Air SJPCD074 ****) is an exercise in finely-tuned pomp rock with some excellent riffing and production fairy-dust from Robert John 'Mutt' Lange (aka Mr Shania Twain).
'Life' was the band's second album and came out in 1981 but was only released in Scandinavia and on the Continent. In 2000 Dicken released a remastered version with extra tracks via his website and this release appears here bolstered with several singles that Dicken cut in the 1990's.
It neatly brings the Dicken story up-to-date , but the over-riding feeling is that there is massive talent here that maybe never realised full potential, whether due to musical climate or musical politics. 'Life' lacks 'Mutt' Lange's sheen but nevertheless all the ingredients of Dicken's art are in place. It will come as no surprise to learn that Mr Big supported Queen in 1975 at the peak of that band's seventies chart success. In many ways, there is a complementary link with the emphasis on catchy, guitar-driven pop rock here evidenced on the title track, 'Wake Up Mr Doctor' and 'Nobody'. A greater depth is revealed on tracks like 'Rainbow Bridge' and 'Dominoe' with a feeling that Dicken could write a few good songs before most of us have breakfast.
The bonus tracks are no fillers either, and show an increasing sophistication and sensitivity at work whether it's the world beats of 'The Beat Speaks' or the funky rock of 'Babylon'.
This is a worthy reissue and includes an informative booklet with track-by-track annotation from Dicken himself who has been heavily involved in the album's excavation.
Website
***
Review by David Randall


£12.99
Babylon
© 2004 Broken Home/Angel Air Records. All rights reserved.