BRIDES OF DESTRUCTION 'Here Come The Brides '
(Sanctuary)(2004)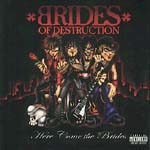 Outside of Velvet Revolver's debut, this one has had a lot of expectation surrounding it. The Brides feature Motley Crue's Nikki Sixx (bass), LA Guns founder Tracii Guns (and also the man who put the Guns in Guns 'n' Roses), drummer Scott Coogan and vocalist London LeGrand. John Corbai (ex-Motley Crue/Union) also plays guitar on all the tracks (he was in the original line-up of Brides when it was first announced).
With a pedigree from the 80's you'd possibly be expecting a mix of Motley Crue meets LA Guns, well you'd be wrong. The album does have a healthy dose of sleaze but mixed with a punk metal sound as well. Take the charmingly titled 'Shut the F*** Up', a tune full of bile and searing guitar riffs that the band meld into a damn fine tune. Other tunes destined for glory include 'Natural Born Killers', with a hook filled chorus and the all out rock of 'I Got A Gun'. Quieter moments can be found at the end of the album in 'Only Get You So Far' although the Brides don't do syrupy ballads.
First rate production from the Guns 'n' Roses team of Steve Thompson and Steve Bruno, making this album one that is cutting edge sound wise with a nod to the past. With the right promotion and a worldwide tour the Brides of Destruction band members could well equal the success of their previous bands. Sleaze, punk metal, call it what you will, just turn it up and get rockin'.
****
Review by Jason Ritchie
Natural Born Killers
© 2004 Brides Of Destruction/Sanctuary Records Group. All rights reserved.


£13.99