BOLT THROWER 'Those Once Loyal' Metal Blade (2005)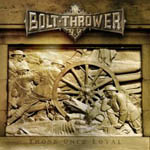 It was five years ago that the English Deathsters Bolt Thrower released their latest album "Honour Valour Pride", and the only news from their camp since that time was that of Dave Ingram's (vocals, ex-Benediction) departure, back in 2002. Line up changes are quite an ordinary phenomenon as far as Bolt Thrower are concerned, but I have to admit that this was the first time that it seemed to me that the future of the band looked quite uncertain.
Well, luckily enough, Barry Thomson (guitars), Gavin Ward (guitar) and the rest of the Bolt Thrower crew had already made their arrangements for the celebration of the band's 20th anniversary, and their plans included the release of a new album - their 8th studio release that's entitled "Those Once Loyal". Now, "Honour Valour Pride" was well received by the majority of the metal press, and that probably put an extra weight on the band's shoulders to produce something just as good, if not better, with their subsequent release. It seems, though, that this five year break was quite beneficial for the band, since they managed, in my humble opinion, to come back with an album that is more passionate and slightly more focused than it's predecessor.
Fans of the English quintet should still expect to listen to the meaty guitar riffs and the explicit accompanying guitar melodies that gave Bolt Thrower their legendary status, but instead of playing it safe with constant mid-tempo tunes as they did in "Honour Valour Pride", they are often speeding things up a bit, and that is a refreshing change. Karl Willets is back again in the band and thirsty for some old-school Death Metal growls, and Jo Bench & Martin Kearns build the musical platform on which the duet Thomson/Ward display their powerful riffs and grandiose melodies. One you play this CD, there is no turning back. Whether you decide to go for songs like "At First Light" & "Last Stand of Humanity" or more typical compositions, such as "The Killchain" (with the amazing built up-tempo in the intro) or "When Cannons Fade", you are guaranteed one thing - thirty-eight minutes of neck-breaking, mind-blowing Death Metal.
There are many Death Metal bands out there that are really fast and technical, but it is Bolt Thrower with their simplicity that have managed to release one of the best albums of the genre for 2005. Is this a coincidence? I think not! Get your hands on this album, and make this your way of wishing this great band a happy birthday!
*****
Review by John Stefanis