BLACK LABEL SOCIETY 'Hangover Music Vol.VI'
(Spitfire Records SPITCD081)(2004)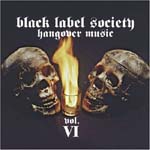 Zakk Wylde never seems to sleep! Hot on the heels of last year's 'The Blessed Hellride' comes another new album and it sees Zakk Wylde entering more melodic territory but not quite Journey! 'Crazy or High' sounds like an Ozzy number and one which Zakk would most probably prefer to play with Ozzy, rather than some of the tunes Ozzy has been recording recently. The song starts with a slow acoustic passage before a big riff kicks and then a trademark Zakk Wylde solo.
Nice bits of doom riffing on 'Queen of Sorrow', 'House of Doom' (where Zakk Wylde does Pearl Jam vocally) and 'Steppin Stone', replete with suitably sorrowful bells. First twist comes with 'Yesterday, Today, Tomorrow' which builds from a piano led start up to a heartfelt vocal and crashing guitar (not unlike G'N'R on a good day). 'Woman Don't Cry' enters Bob Seger territory; with it's smoky vocal and laid back guitar parts. But you ain't heard nothing until you hear BLS take on Procul Harum's 'Whiter Shade of Pale'. Zakk Wylde plays only piano on this version and again Bob Seger comes to mind vocally. In a word - genius and he plays a mean piano. The late Alice In Chains vocalist Layne Stayley gets a moving tribute on 'Layne'.
Will surprise many and could well win BLS a whole new audience.
Label website
****
Review by Jason Ritchie