BIG HEAD TODD & THE MONSTERS Crimes Of Passion(Silverline 2882599)(2003)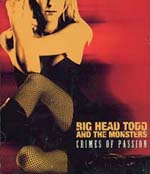 This Colorado based trio have been a band since High School and that show in this self produced release. The songs are powerful and with meaning, each one telling a story as they go along.
Opening track "Dirty Juice" reminded me of ZZ Top but I don't know why, in other places I was reminded of Tom Petty, the songs having a good mix of driven rock and laid back, soulful tunes. The highlight of the CD for me were "Beauty Queen", "Come On" (great guitars and a simple tune) and the best track on the CD "Lost Child Astronaut"- a soulful Black Crowes style number.
This is a band I would love to see live and on the DVD extras here there is a behind the scenes video with band interviews, live tracks and a great acoustic rendition of "Angela Dangerlove" as well as band photos, lyrics and a web site link. This is a great album by a band that deserve to do well.
****
Review by Nikk Gunns