Big Country classics from 1986 and 1991...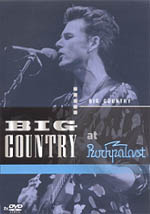 A double DVD featuring two concerts in Germany from 1986 and 1991. Both feature a good mix of Big Country classics such as 'In A Big Country', 'Fields of Fire', 'King of Emotion' and 'Chance', along with some good covers like 'Manish Boy' and a storming run through Neil Young's 'Rockin' In The Free World'.
No extras bar the chance to programme your own tracklist on each DVD. The band are in fine form on both shows and needless to say the crowd are very enthusiastic and lap it all up.
Two well recorded shows that show just how much Big Country will be missed, in particular their frontman the late, great Stuart Adamson.
****
Review by Jason Ritchie