BEN ARTHUR 'Three-track promo'
(Bardic Records BARPRO0001-2)(2003)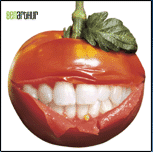 Well, it's a tough world out there, the US singer songwriter scene is competitive but, hey, someone's got to do it. Ben Arthur is one of this breed, although he has been plying his trade for a decade. Strangely courted but not signed by major labels he had his own Chicken Butter label for a time, before succumbing to new-indie-on-the-block Bardic Records. With labelmate Jennifer Marks, Ben is among the first signings.
His music is very accessible, laden with strong imagery and glistening guitars. On this three-track offering, there is an anthemic quality on 'End Of The Day' and 'Tonight'. His influences include some classic rockers like Pink Floyd, Zeppelin and AC/DC which may stop his muse becoming too saccharine. He also uses some contemporary disc scratchings and drum machines giving the music a distinctive edge. A trailer for the album, 'Edible Darling', this singer songwriter in waiting may yet hit paydirt.
Website
Feature
Album review
Tonight
© 2003 Ben Arthur/Bardic Records. All rights reserved.
****
Review by David Randall