BECK 'Girl' (CD single) Interscope Records (2005)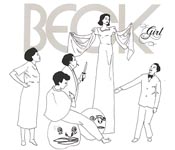 Described as 'the coolest man in pop' by The Observer newspaper, and by Jonathan Ross as 'the man in the office who's come about the IT'.
This is the second single from acclaimed album, 'Guero' and further evidence of Beck's deceptively simple approach.
'Girl' is catchy and upbeat with a chorus that might lend itself to incessant plays behind the barbecue.
***
Review by David Randall