BEAUTIFUL SIN The Unexpected AFM 084-2 (2006)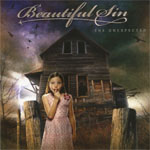 Solid European power metal featuring drummer Uli Kusch and female singer Magali Luyten, with guitar and keyboards to fill a bright (almost too bright) sound.
This Is Not The Original Dream is a little more classical, has touches of AOR at its heavy end,.
The vocals work well, with the backing vocals making some good harmonies, and the heavy guitar adds some progressive moments.
Less derivative than most European metal and not as catchy either, but it is good throughout. Some touches of Priest guitar at their heaviest add interest.
***
Review by Joe Geesin
Closer To My Heart
© 2006 AFM. All rights reserved.