BALTIMOORE Kaleidoscope (2006)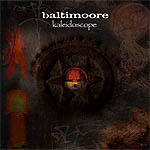 The bandís eighth studio album, and slightly heavier than the previous album Fanatical, and is pretty good trad yet modern hard rock. Nice to get something without that indie edge.
Yes itís good, in places catchy, but nothing exceptional.
'Journeyman' is a good a rock song as most, although the mix of keeping the rhythm and lead guitars entirely separate channels doesnít always work. That said thereís a touch of Morse-era Deep Purple to the sound, always a good touch.
Touches of Aerosmith and early 80s AC/DC is no bad thing either.
***
Review by Joe Geesin
To The Bone
© 2006 AFM. All rights reserved.