ALYSON AVENUE 'Omega '
(AOR Heaven 00008 Advance promo, release date 26.04.04)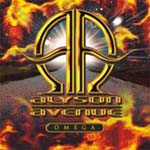 I don't know whether my hearing's going, or my system is playing up, but there is definitely something strange about this CD. Essentially, the female vocalist is lost in a barrage of wailing hair metal guitars. What could have been the band's USP is actually squandered due to the lack of production values. A female-fronted AOR band is not so original, I mean Heart, Quarterflash and even Fleetwood Mac come to mind for starters, but either my ears need sorting or the presence of Anette Blyckert is mere tokenism.
Anyone expecting the incisiveness of a Benatar, who admittedly in full throttle veered on the side of heavy rock, will therefore be disappointed and, in truth, the vocals have all the weight of Anni-Frid and Agnetha. Coincidentally, this band is also from Sweden.
Admittedly, Anette is not helped by a paucity of writing ideas: an exercise in Heart-esque melodic pop rock but it's just not as convincing. I would like to hear this band live because I think the twin guitar growl would simply drown everything out, including poor Anette, more especially if the album's engineer is sound-man.
This album sounds like a polished demo. Three stars to Anette for being there, nil points for the sound engineer. A missed opportunity.
Label Website
**
Review by David Randall
When Dreams Fall Apart
© 2004 Alyson Avenue/AOR Heaven. All rights reserved.