THE BEST OF 2017 IS COMING!
Each year, the GRTR! reviewers provide a definitive summary of the year's great album releases and gigs.
From Monday 27 November we publish their selections and a week later - from Monday 4 December - you can vote for your own favourites. All participants can enter a prize draw for a selection of prizes including CDs and DVDs.
You can check back on our 'Albums Of The Month' by following the link below. This will be updated to include albums in November prior to the voting.
---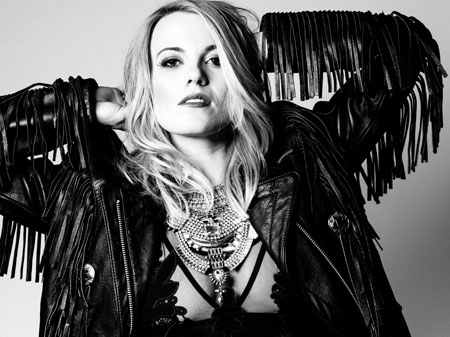 MOLLIE MARRIOTT TOUR STARTS 9 NOVEMBER
MOLLIE MARRIOTT is touring in the UK from 9 November with Bad Touch, coinciding with the release of her debut album.

GRTR! caught up with her recently for an interview and the hour special is available to Listen Again via the Mixcloud page
On Sunday 22 October Pete Feenstra chats to WALTER TROUT as the blues rock guitarist's UK tour comes to a close. This interview is broadcast on Get Ready to ROCK! Radio at 20:00 GMT.

Recent interviewees have included TOMMY CASTRO (touring the UK in late November), AUSTIN GOLD and JARROD DICKENSON (UK tour completes this week).
More information (Mixcloud)

More information (Get Ready to ROCK! Radio)
---
Albums of the Month
SONS OF APOLLO Psychotic Symphony (Inside Out)
"The album is a musical monster that's for sure, as the collective members input their various influences from past and present bands, plus their love of bands like Deep Purple and Rush.." (Jason Ritchie)

---

SHADOWQUEEN Living Madness (Cloburn Music)
"Robbi's looks and larynx may evoke P!NK but the overall appeal will be to lovers of Halestorm and Paramore but with a striking consistency that sometimes eludes more familiar names." (David Randall)

---

SAVOY BROWN Witchy Feelin' (Ruf Records)
"Kim Simmonds delicate touch, heartfelt vocals and a true feeling for the blues ... continues to craft with a spirit and joy de vivre that leaves many of his contemporaries in the shade ." (Pete Feenstra)

---

APPICE Sinister (SPV)
"...together they represent one helluva legacy in the drum department of rock...This is a great debut and you can't help thinking … bring on a live gig, given the twin legacy that is almost an A-Z of heavy rock (David Randall)

---

THRESHOLD Legends Of The Shires (Nuclear Blast)
"..Lots to digest and enjoy musically...an album you will keep coming back to again and again " (Jason Ritchie)

---