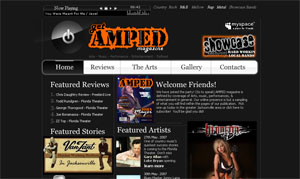 As the US correspondent for GRTR!, Steve Janowicz has been supplying us with top notch photographs and reviews of some of our favorite artists as they tour through the United States.
From his first story on Queen and Paul Rodgers up to today, we could always count on Steve to help us virtually attend and see through his camera lens and now he has launched a music and arts magazine in the States.
GetAMPED Magazine is the name and from what we can see online, it's a solid zine that offers its readers more than it's share of eye popping show photos.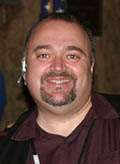 "I was the music editor for a luxury magazine in Jacksonville, Florida and working on my latest feature story when the publisher asked me to put Johnny Van Zant in a tuxedo for the cover shot.
Putting JVZ in a tuxedo is like asking Ian Anderson to wear a tutu on stage, it's just not going to happen. I finished my story and it ran on the cover (no tux) as planned, then I politely let my publisher know that I'd not be providing content to her publication going forward.
I could have worked for various other publications, however it hit me that another publisher who did not get it would most likely ask something equally ridiculous at some point. Enter the concept for GetAMPED which stands for Arts, Music, Performance, Entertainment, Defined.
Please check out the site and drop me an email to let me know what you thought at info@getampedmag.com."
GetAMPED Magazine is covering national and international artists of all genres. They have their version of a Podcast, artfully named 'AMPEDcast' as well as integration of interview sound bytes from fans after the show.
They have also been busy on the local scene, sponsoring showcases and as I understand they are planning a huge Southern Rock Festival this fall which will be kind of a Southern Woodstock.
We'll keep you posted on that one later but for now, GetAMPED Magazine is up and running and can be found at www.getampedmag.com
Steve has assured us that even though his magazine will be consuming his mortal existence, he will still stay on as our US guy. We hope so!
Perhaps we'll even get more out of him since he's become a player in the States! Steve and his colleagues share our enthusiasm and genuine love of all things rock and getAMPED is an excellent example of a music magazine with a local bias but with much wider appeal too.
We wish Steve and GetAMPED good luck with the new venture.
---
| | |
| --- | --- |
| | Print this page in printer-friendly format |
| | Tell a friend about this page |