WIN STEELHOUSE LANE CD
THREE TO GIVE AWAY!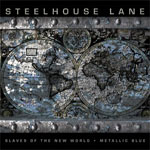 Those jolly nice chaps at Escape Music have offered three copies of the new Steelhouse Lane double album reissue - 'Steelhouse Lane' and 'Slaves Of The New World'.
Mike Slamer is a legend in his own lifetime. He's worked with Steve Walsh (Kansas), Billy Greer (Kansas) and recorded two albums as "Seventh Key". He has also recorded a solo CD and has been involved with many a production.

In the late nineties, MTM music released Two CD's by the fantastic Steelhouse Lane, a band that featured Mike, and also Keith Slack, later to front Taz Taylor band.
This brace of recordings from 1998 and 1999 respectively are raw slices of hard melodic rock. Metallic Blue was recorded in 1998 and features 12 tracks of brilliant melodies and superb guitar playing from Mike himself.
In 1999 the band stepped up a notch to record Slaves of the New World", an album of hard melodic rock of the very highest order, and with a bonus track on offer then this makes this nostalgic package something to savour.
Check out www.escape-music.com

To win a copy of this reissue, just answer the following question. Closing date 31.12.10
Mike Slammer was a member of which 70's band that had a hit with '5705'?

a) Pilot
b) City Boy
c) Smokie
Now complete the form below: