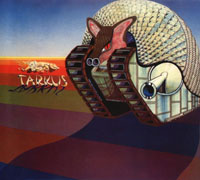 WIN A SET OF ELP VINYL!
DEBUT ALBUM (1970), TARKUS (1971)

and PICTURES AT AN EXHIBITION (1971)
In July, BMG started the reissue campaign which will see Emerson, Lake & Palmer's catalogue remastered and expanded in the coming year.
The first tranche of releases - the band's first three album releases - can be won (on vinyl) in our competition. Just answer the question below.
Says Greg Lake: "Ever since producing and recording with King Crimson and ELP, it has been my personal goal to achieve the best possible sound quality and that remains true to this day. In the interests of delivering the best quality audio to our fans we have decided to go for quality rather than quantity. The reality...is that particularly when using modern decks, the best audio quality is actually achieved using the lighter 140gsm weight."
On 30 September a further set of releases is scheduled including 'Trilogy' and 'Brain Salad Surgery'.
To enter, just answer the following question and select the box below.
Closing date Sunday 2 October 2016. Winners will be notified by Wednesday 5 October.
What was Carl Palmer's previous band before joining Emerson Lake & Palmer?
a) Asia
b) The Nice
c) Atomic Rooster
Now complete the form below: